Giving opportunities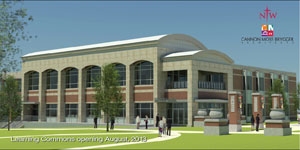 Imagine. A new learning commons that promotes a boundary-free approach to learning and research. Funding for innovative and in-demand academic programs. More student scholarships. A larger endowment.
Northwestern's $54 million Imagine Campaign will meet vital needs and position the college to better fulfill its mission of engaging students in courageous and faithful learning and living that empowers them to follow Christ and pursue God's redeeming work in the world.
More than $38 million has already been raised through gifts from foundations and the college's million-dollar donors. Now it's time to open the doors to all gifts and givers. With your help, we can reach our goal by the year 2015.
Review the opportunities to be a part of the Imagine Campaign. Where do your passions fit our needs?
Imagine the difference your gift can make.
| Imagine Campaign | Gifts & pledges |
| --- | --- |
| Learning Commons | 12.8 million |
| Northwestern Fund | 9.7 million |
| Strategic initiatives | 5.9 million |
| Scholarships | 7 million |
| Deferred giving | 8.1 million |
| Facilities improvement (RSC, etc.) | 4.2 million |
| Total | $39.3 million* |